About missionary work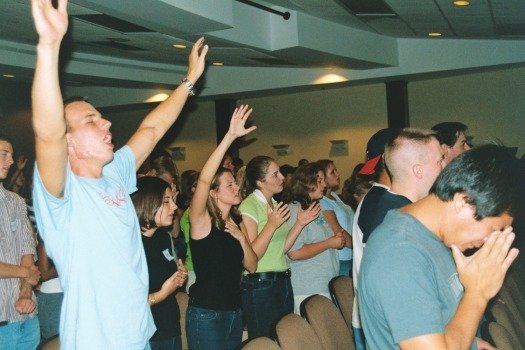 Every Christian is really a missionary, wherever he/she is at. Jesus calls us in Matthew 28:18-20, the Great Commission, to go to all the nations, make disciples, baptize them, and teach them to obey Jesus's commands. After I became a Christian in April 2000, God called me to serve Him, first as staff member with Chi Alpha Christian Fellowship (short: Chi Alpha, or XA) at the University of Missouri-Columbia the next 5 years, then as staff member with Chi Alpha at the University of California, Los Angeles (UCLA) since 2005
On the pages here, I am telling you about Chi Alpha, then I am explaining, why UCLA is such a crucial place for ministry, and what missions opportunities are available. To do effective ministry, I need your prayer and financial support - find out, how. To find out more what God already has done in my life, please look at my testimony, also see my short little histories of XA at Mizzou and at UCLA, and my newsletters. Finally, I made available my papers I wrote for long-distance courses, called Berean courses at Global University.
About Chi Alpha Christian Fellowship
We are non-denominational on campus, but we are sponsored and affiliated with the A/G (Assemblies of God). What are we about? What is our vision? Why do we try to reach campuses?
We are a relevant movement of college-age men and women earnestly following Jesus, connecting with current culture. We seek to introduce fellow collegians to an authentic relationship with Jesus Christ. Our goal is to experience the presence of God and His power in an authentic way through worship, prayer, and witness, and to live a genuine Christian life, developing real relationships with people and Jesus.
The students and staff involved in Chi Alpha have all kinds of backgrounds, we were Catholic (me), Pentecostal, Baptist, Buddhist (our campus pastor), etc. We are from the Unites States, China, India, Vietnam (our campus pastor), and Germany (me)...
Name & Ministries
Chi Alpha Campus Ministries is abbreviated Chi Alpha. The name comes from the Greek in 2 Cor 5:20, where it says christou apostoloi, which translates as Christ's apostles, Christ's sent ones, or Christ's ambassadors. The Greek initials of those two words are 'Chi' and 'Alpha'. Since the Greek 'Chi' looks somewhat close to the American 'X', we like to abbreviate Chi Alpha as XA also.
Here are a few outside webpages on Chi Alpha, so that you don't have to rely just on me...:
We meet on campus, in all sorts of settings and sizes. These gatherings are informal and deal with everything from relationships to the nature of truth. We have encounter groups (small group Bible studies), an evangelization-outreach-promotion team (UC Hope), organized prayer meetings, International Student Friendship Ministry (ISF), etc. Our weekly large-group meeting, The Element (Chi Alpha Live), is a fusion of all the ministries of Chi Alpha. Through intimate worship and relevant teaching we hope that each Tuesday night offers a spiritual reference point which enables students to be transformed by Christ's love.
Mission statements
Chi Alpha is an international ministry, represented on more than 270 campuses in the US. It was founded in 1953 in Springfield, MO.
We are reaching traditional and non-traditional students, even people who are not currently enrolled as students. We are not a fraternity or sorority. We invite everyone to be a part, regardless of background. The national missions statement of Chi Alpha is:
Reconciling students to Christ --- transforming the University, the marketplace and the World.
Our team believes that
Chi Alpha is a community where we love people, where we care for people, where we are passionate about Jesus Christ and the things of God.
The bottom line is: Our ministry is about transformed lives.
Here is the five-fold ministry Chi Alpha is built on:
worship...Thanking God for who He is and what He does.

prayer...Communicating with God.

fellowship...Building a community with quality relationships.

discipleship...Learning how Jesus lived and following His example.

witness...Reflecting our relationship with God in what we say and do.
Need for student ministry
University campuses are the most strategic missions field in the world. Students are away from their parents for the first time, and they are seeking the truth on their own. If we don't present the truth, they might not find it. How they are influenced in college will most likely affect them for the rest of their lives.
Too many students who have been active members of their youth groups fall away from God at a secular university. Surveys at high schools a few years ago indicate that 95% of students do not have a meaningful relationship with Jesus. Chi Alpha is on college campuses to change this!
A special area of concern is Loneliness. Today's students value family, relationships, and friends. But they don't know how to go about it. Their solutions too often lead to
sexual immorality
debauchery (drunkenness)
homosexuality.
We know how to have genuine relationships. John 13:35 says: "By this all men will know that you are my disciples, if you love one another."
Students on college campuses today are our community and national leaders of tomorrow. They gather for a season and scatter for a lifetime. Today they learn. Tomorrow they will lead. What an opportunity to reach our future politicians, lawyers, doctors, teachers, actors, media executives, neighbors, ...